sketchsupport
. The first was made from a birthday hat sketch which I flipped to make a flower bouquet.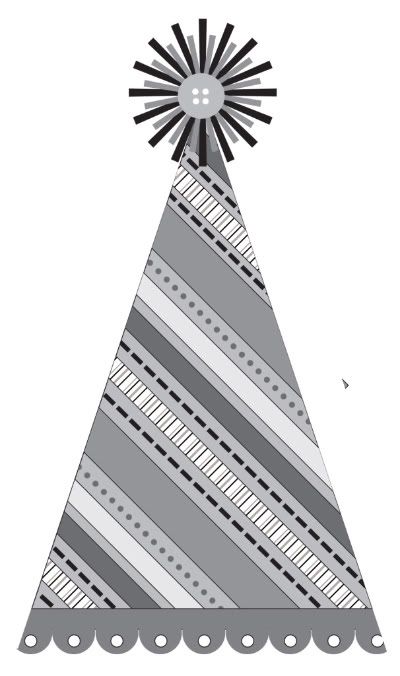 And this is what I made:
"I Love You"
by Amy Roller
Supplies
-
Patterned paper/Cardstock:
unknown, Stampin Up!, Lasting Impressions, Bazzill Shimmer;
Stamps/Dies:
Papertrey Ink;
Ink:
Stampin Up!;
Flower:
Prima;
Border strips:
K&Company, Close To My Heart;
Felt:
Papertrey Ink;
Pearl:
Close To My Heart;
Other:
Thread, Rhinestones
I decided to flip the sketch and use it as a bouquet of flowers. I kept the scallop from the bottom and added it to the top border of the bouquet.
To start, I hand cut the triangle shape and made it into a 3-D pocket with the border trim attached. I then cut a pattern and solid strip to add across the front of the project. I put the pocket down on top of this and used a die to cut the "you" out and adhered it down as well. Next, I stamped the "I love" above it.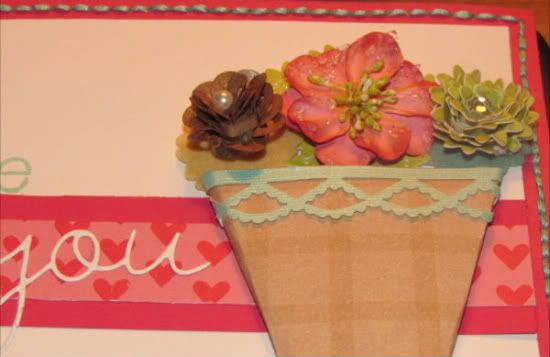 For the flowers I used border strips that I rolled up and held with adhesive. I then "folded" the edges of the strips down to make flowers. I then added a pearl and rhinestone to the handmade flowers. For the last and middle flower, I used a Prima flower with more pieces of the green border strip to make leaves behind the flowers. The two handmade flowers also have a die cut felt flower base.
Last I stitched a border around the base of the whole piece.
I will be putting this in a shadow box frame in my home.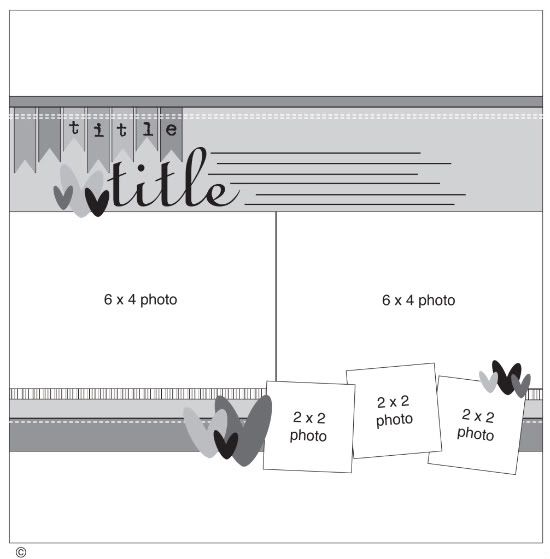 This week is the 1 page sketch: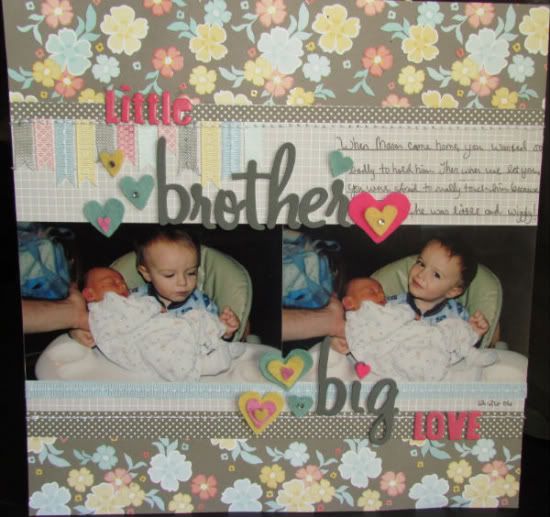 I made this:
"Little Brother, Big Love"
by Amy Roller
Supplies: Patterned paper: American Crafts; Letters: American Crafts, Fancy Pants; Felt: Papertrey Ink; Ribbon: American Crafts, unknown
One of the biggest variations I made to this page was deciding to use a pattern paper for the base. Because I only had two pictures to use, I also left off the three small photos and extended my title to that area.
It helps draw your eye down and across page just as the photos would have. I followed the rest of the sketch pretty close, but used a ribbon across the bottom in place of the stripe because I didn't have a stripe that matched.
I added a few more ribbon strips in the top left corner to balance out my long title on top.