Latest card sketch from
sketchsupport:
sketch by Allison Davis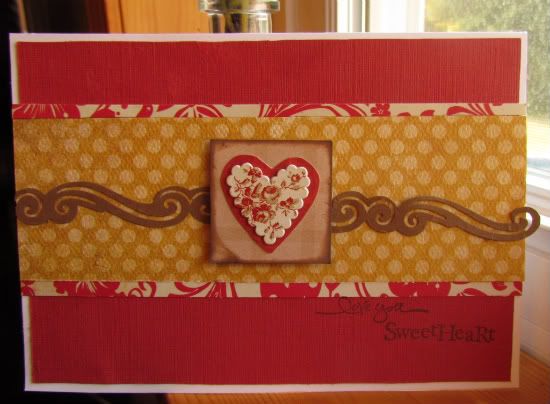 "Love You Sweetheart" card
by Amy Roller
Supplies
-
Patterned paper and cardstock:
Stampin Up!;
Dotted paper:
My Mind's Eye;
Chipboard heart:
Making memories;
Stamps:
Stampin Up!, unknown
I decided before I started that I was going to use some of my scraps for this card. I dug out some things that I liked and started. I liked the swirl border in place of the stripe and really wanted more of it to show so on a whim I just left off the two end squares. That is another great thing about sketches, you can alter them to fit your papers, your style, or your mood at the moment. While I was changing things, I added a thin strip along the background border on top and bottom.
I added a few small sentiments to the bottom corner and popped up the remaining square in the middle. I added two layered hearts and inked the edges as well. This went together really quickly and I managed to use up some scraps out of my overflowing drawer!