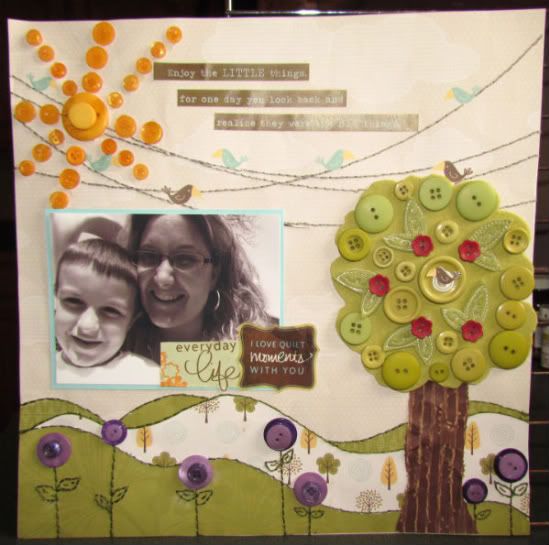 "Enjoy the Little Things..."
by Amy Roller
Supplies
-
Patterned paper:
Stampin Up!;
Cardstock:
Coordinations, Stampin Up!;
Buttons:
Papertrey Ink, unknown, Scrapbook Generation;
Felt Leaves:
Stampin Up!;
Thread, Sticker Embellishments, Felt:
Papertrey Ink;
Embossing Folder:
Provo Craft, sanding block
I decided I wanted to make a LO with this add-on, so I made the tree bigger to fit the area. To start off the page, I hand cut a tree top shape out of felt. Then I used different sizes and colors of buttons to fill the shape. I also added felt leaves and little red flower buttons. I used a white lined button in the center of the tree to look like a nest then added a bird cut from the patterned paper.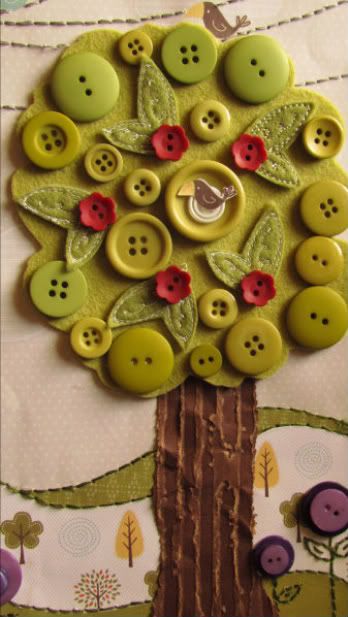 For the trunk of the tree, I ran cardstock through an embossing folder to add texture and then sanded it down. It is different colors on each side, so that when you sand it you see both colors. I just cut it into a trunk shape.
The paper had an existing power line that the birds sat on and I stitched along it to add more detail. I decided to carry out the button theme and also made a sun out of buttons to help fill the page.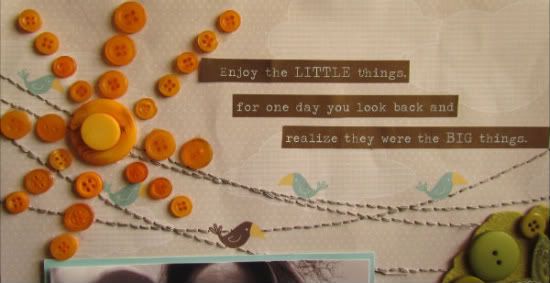 I cut a sticker sentiment into strips and added it to the top of the page.
For the bottom of the page, I hand cut "hills" out of patterned papers and then stitched along each one to help them standout.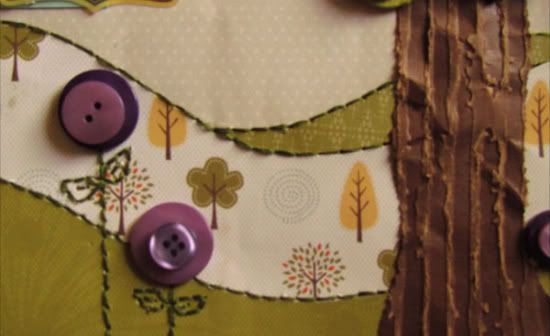 I then stitched stems for flowers that were also made out of two stacked purple buttons along the bottom of the page.
Last I added a matted photo with 2 sentiment stickers. I love how it turned out! Thanks for stopping by!